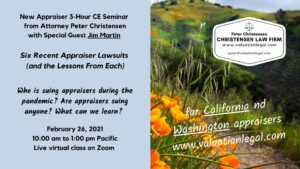 If you're a California, Idaho, Oregon or Washington appraiser, please join me and my special guest former California BREA Chief Jim Martin for a presentation of a new appraiser CE class: Six Recent Appraiser Lawsuits (and the Lessons from Each). Approved for three hours of appraiser CE in California, Washington, Oregon and Idaho.
As appraisers who've been in my other classes know: these classes are not about boring E&O insurance stuff. They are about real-world cases and problems. And, in this newest class, we're going to discuss 6 recent cases involving appraisers – 5 of the 6 cases we'll discuss were filed during the pandemic. What are appraisers being sued for during the time of COVID-19? What about the reverse – are appraisers suing anyone in relation to their professional work? With Jim's additional input, we'll distill the lessons and takeaways from the cases.
The classes will be presented in Zoom. Like regular live classes, there are no quizzes, but you must pay attention and must have working audio and a video cam on your computer.
More details are here: Course Page.
The course provider is Valuation Education LLC (operated by Peter Christensen).
Six Recent Appraiser Lawsuits (and the Lessons from Each)
3 Appraiser CE hours in CA, ID, OR and WA
Approvals: CA BREA 2010722002, OR ACLB VALE-C-1220-0002, ID Board of Real Estate Appraisers, WA DOL A21003643
Course Fee $45
Qualifies for LIA's E&O discount
Thank you, Peter Christensen