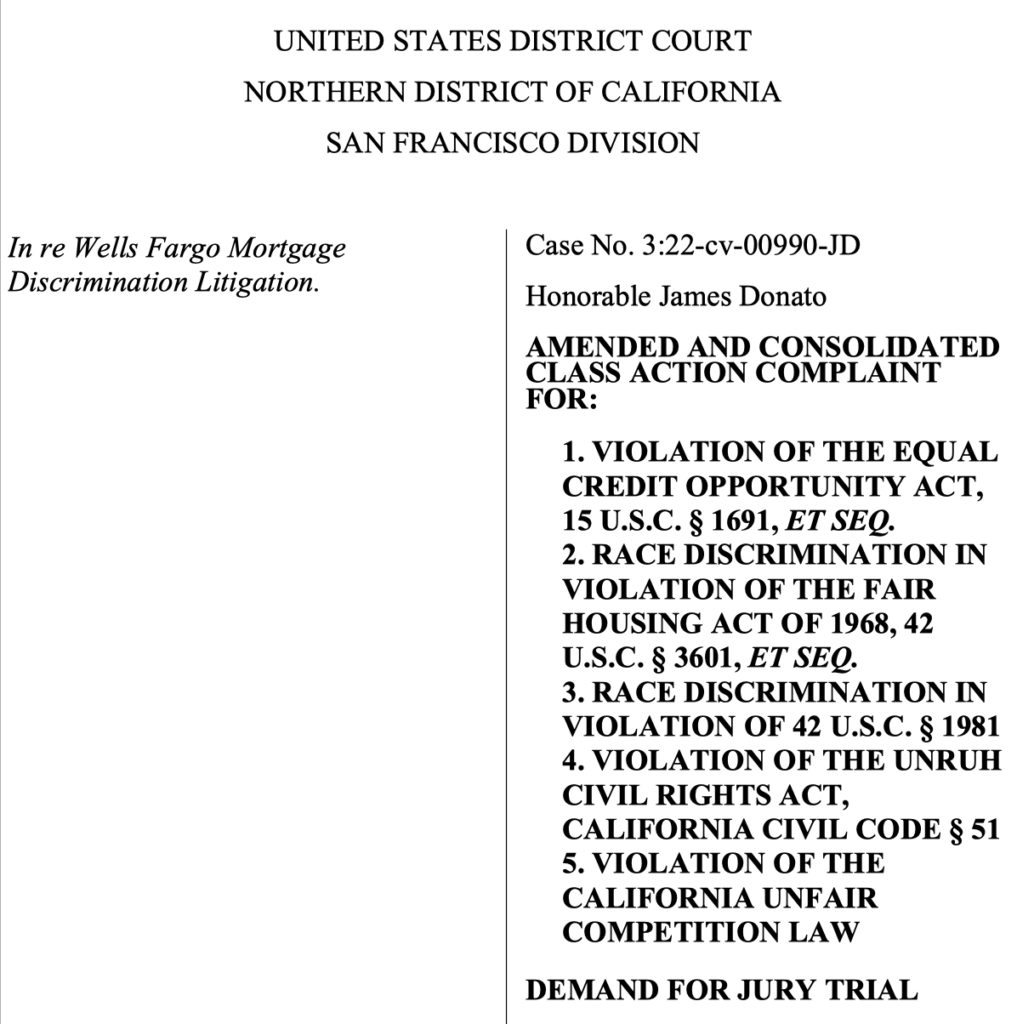 How many discrimination cases have been filed against appraisers? What's really happening in the courts and in investigations with respect to alleged bias? Those are questions I cover in my presentations and classes for appraisers. But, I will tell you here that the most significant pending case about alleged appraisal discrimination doesn't name an appraiser or appraisal management company as a defendant; it names only Wells Fargo Bank. Here's more about the case.
In March 2022, Bloomberg News published an article entitled "Wells Fargo Rejected Half Its Black Applicants in Mortgage Refinancing Boom" (registration required). Bloomberg's researchers had combed through the data for 8 million conventional loan refinance applications in 2020 reported by lenders under the Home Mortgage Disclosure Act. The researchers saw stark differences in Wells Fargo's approval rates for White, Black and Hispanic refinance applicants. They found that Wells Fargo approved 72% of applications from White applicants but only 47% from Black applicants. In contrast, Rocket Mortgage approved 86% of White applicants and 79% of Black applicants. For Hispanic borrowers, Wells Fargo's approval rate was 53% versus a 79% industry average for Hispanics. Some might jump to an explanation here like "Black and Hispanic borrowers may not have the same average financial means as Whites." Bloomberg's research, however, showed that Wells Fargo's approval rate was lower for Blacks in high income brackets than for Whites in low brackets.
After publication of the article, a half-dozen class actions were filed swiftly against Wells Fargo by Black and Hispanic borrowers who had been denied loans. The Federal District Court in Northern California consolidated these cases earlier this year under the new title In re Wells Fargo Mortgage Discrimination Litigation, U.S. District Court, N.D. Cal., Case No. 3:22-cv-00990.
The primary legal claims in the consolidated case are brought under the federal Fair Housing Act and Equal Credit Opportunity Act. And, the alleged damages could be substantial – borrowers denied loan refinances in 2020-2021 may have lost out on saving tens of thousands of dollars on their mortgages by being unable to lock in historically low interest rates. The complaint in the case principally alleges a story about disparate treatment and impact in Wells Fargo's mortgage determinations, including the bank's use of flawed "centralized, universal, race-infected lending algorithms" or "digital redlining." But part of the plaintiffs' theory is also based on alleged bias in the appraisals relied on by the bank.
Here's a key allegation pertaining to appraisals:
Wells Fargo knowingly incorporates, without adjustment, appraisals that have been shaped by years of race-based valuation standards or appraisals affected by race-based criteria. Homes in majority Black neighborhoods are worth an average of 23% less than homes in neighborhoods with "very few or no Black residents" and of similar home quality. (Citing Dr. Andre Perry's research at Brookings "The Devaluation of Assets in Black Neighborhoods.").
As a result, the plaintiffs allege that "Wells Fargo's discrimination . . . has forced those who received below-market appraisals from Wells Fargo to abandon the process with Wells Fargo and turn elsewhere."
As litigation in the case has unfolded, the plaintiffs have begun to pursue details regarding the bank's appraisal policies, practices and training. For example, the plaintiffs recently have sought to obtain evidence of whether Wells Fargo has provided training to appraisers on the subjects of fair housing and fair lending. (Note: I am hearing about this subject coming up in recent FDIC examinations as well.)
This is the most significant present case on the subject of alleged appraisal discrimination for two reasons. First, it potentially concerns thousands of appraisals and the damages at stake are monetarily significant. Second, it's been reported that Wells Fargo is seeking to resolve the case by mediation — an ultimate settlement, beyond damages, could likely include measures relating to changes in the bank's appraisal practices and in required training by the bank. Aside from those reasons, I anticipate that the case also will explore GSE "appraisal waivers" — where the GSEs determine that an appraiser's appraisal will not be necessary for a loan. I don't think the plaintiffs' attorneys are knowledgeable yet about the subject (based on their pleadings and discovery), but given their direction, it seems a sure bet they will ultimately look at whether appraisal waivers were more often given for loans to White applicants than for loans to Black and Hispanic applicants, and whether such differences resulted from manipulation or disparate impact issues in the waiver criteria.
One easy takeaway for all lenders, appraisers and management companies is to appreciate the need to complete fair housing training. This need is twofold. It's important to understand and be able to apply fair housing laws in the context of appraisals, of course. Pointing to genuine training also just plain helps when you need to persuade regulators and courts that you're doing things right. The issue of fair housing training has come up in every appraisal discrimination investigation that I've handled.
Thank you, Peter Christensen