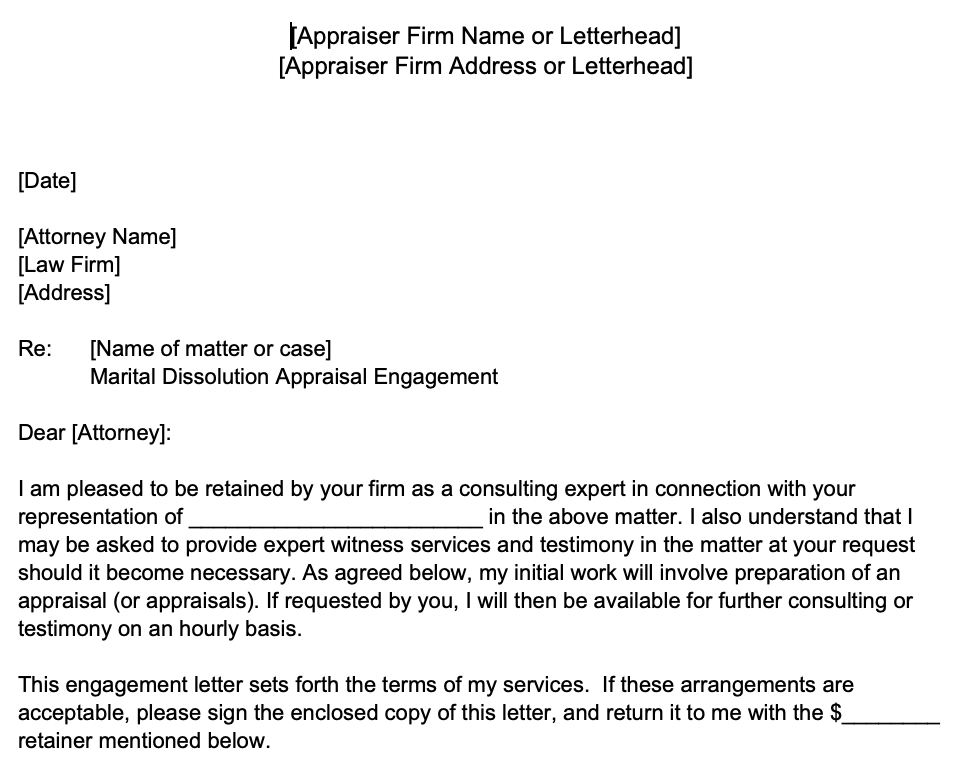 I've prepared the following example basic engagement agreements for appraisers to consider in their practices. They are provided in Word to make them easily editable. You'll find a discussion of engagement agreements in Chapter 8 (Engagement Agreements and Appraisal Terms and Conditions) of my book, published by the Appraisal Institute in 2019.
If you're a California appraiser, you can also take my 4-hour CE course "Federal and California Laws and Regulations – with Real World Relevance." In that course – which fulfills a mandatory BREA CE requirement – we discuss the use of engagement agreements.
These materials are similar to the sample agreements made available by the Appraisal Institute on its website (link). On the Appraisal Institute's website, you'll find additional examples covering things like multiple appraisal services for a single client. I was a member of the Appraisal Institute's work group that updated the materials in 2018.
The example basic agreements are offered as starting points for a user's consideration. Any user of these materials should do their own research about application to their work and/or seek legal counsel.
Non-Litigation General Appraisal Assignments
Examples 1 and 2 are agreements intended for appraisal assignments in which the appraiser is performing a single appraisal for non-litigation purposes. They're primarily intended for non-lending assignments, because regular lenders generally require their own engagement forms, but the examples are still suitable for lending purposes if your client will accept the wording.
Example 1 is a two-part agreement with a main body identifying key terms and then a separate "terms and conditions" attachment (rev. 2-28-20)
Example 2 is a streamlined "all-in-one" engagement agreement. Of course, you should edit either version to suit your own practice (rev. 7-20-20)
Litigation Consulting/Expert Witness Assignments
Example 3 is an engagement letter intended for litigation assignments for which the appraiser is being retained as a consulting expert with the possibility that the appraiser may later be designated as a testifying expert witness. (rev. 2-28-20)
Divorce Appraisal Assignments with Potential Testimony
Example 4 is an engagement letter intended for divorce assignments for which the appraiser may initially provide an appraisal for a fixed fee and may then later provide testimony on an hourly basis (a two-stage assignment). (rev. 5-16-23)