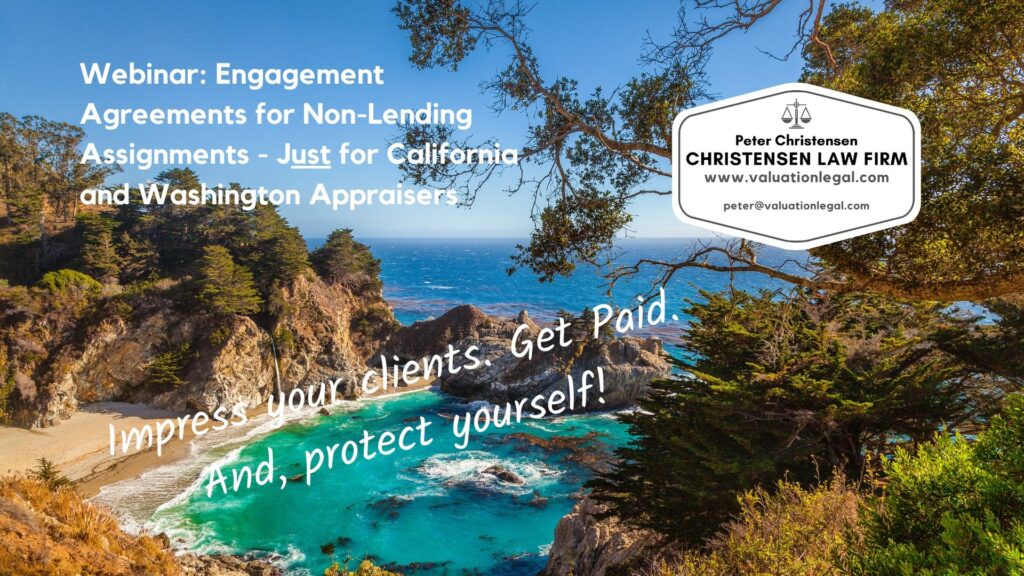 This webinar occurred on February 28, 2020. You may download the slides below.
***
The next free webinar from the Christensen Law Firm is "Engagement Agreements for Non-Lending Assignments, Just for California and Washington Appraisers."
February 28, 2020 at 9:30 a.m. Pacific.
In this webinar, I'll cover:
How to create a professional engagement agreement for non-lending appraisal assignments.
Impress your clients, make sure you get paid, and protect yourself with a well-thought agreement that works with corresponding terms and conditions in your appraisal report.
How to access my password protected web page with sample engagement agreements I have drafted specifically for California and Washington appraisers.
Registration is free and only requires your name and email. I will have a drawing at the end for free enrollment in my 4-hour online CE seminar "Appraiser Liability 101." Or, the winner can receive a free copy of my book Risk Management for Real Estate Appraisers and Appraisal Firms.
The webinar will last approximately 45 minutes.
If you're a California or Washington appraiser, please check out my online class "Appraiser Liability 101" – it's a 4-hour online CE seminar for appraisers approved for credit in CA and WA (and HI and OR too).
Thank you, Peter Christensen