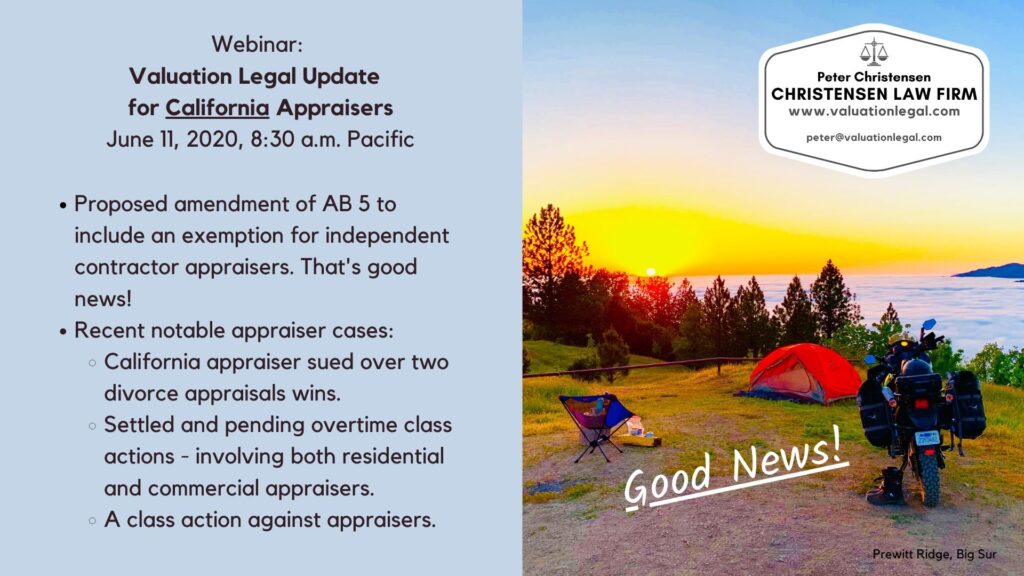 This webinar occurred June 11, 2020. Later that day, the California Assembly voted in favor of AB 1850 that includes an exemption for contractor appraisers from the "ABC test" in AB 5.
I'll be hosting another free webinar for California appraisers from the Christensen Law Firm on June 11, 2020 (at 8:30 a.m. Pacific) – it's the "Valuation Legal Update for California Appraisers!" Also, for June, I've scheduled four special virtual offerings of my regular live CE classes (approved by BREA) – more details below.
The registration page for the free Valuation Legal Update webinar is here: Registration Link. If you can't catch it live, a recording link will be here later.
In this webinar, I'll update appraisers about the proposed amendment before the California Legislature of AB 5 (California's law that makes it more difficult to work as an independent contractor) to include an exemption specifically for appraisers. This is good news for appraisers who work as independent contractors and for the firms and AMCs that use their services.
I'll then talk about recent appraiser cases – there's something to learn from each of them:
A Southern California appraiser sued over two divorce appraisals won his case – find out why.
An AMC settled a staff appraiser overtime class action for $6 million, but a commercial firm is still fighting three pending overtime class actions.
What's it like to be sued for about a billion dollars? Several appraisers and small appraisal firms know – they're being sued over appraisals of conservation easements for tax returns.
The webinar will last approximately 45 minutes. Registration is free.
If you are a California appraiser, you might also consider my CE education opportunities (approved by BREA):
I'm presenting special

virtual

offerings on Zoom of my regular 2 and 3-hour live CE classes focused on appraiser legal subjects. These are approved by BREA for appraiser CE credit. The titles are:

"Hot Topics and Myths in Appraiser Liability" (3 CE hours).
"Disasters, Hybrids and Weed: Special Legal Issues for Appraisers" (2 CE hours).
"Liability Issues for Appraisers Performing Litigation and Other Non-Lending Work" (3 CE hours).

More information about the virtual classes is here: Virtual Classes. As with normal live CE education, there are no quizzes and tests – but you do need to pay attention and have audio and a video cam on your computer (per BREA requirements).
Or, consider my regular 4-hour online CE class "Appraiser Liability 101." This is a regular online class that you can take anytime 24/7.
Thank you, Peter Christensen