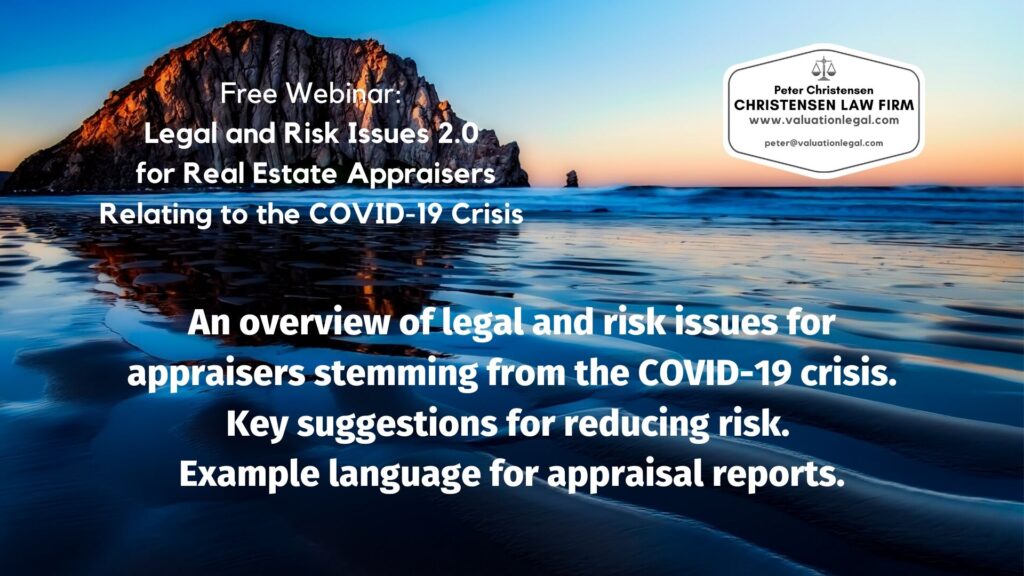 This webinar already has occurred. Links to the slides used in the presentation are below. Thank you, Peter Christensen
Free video webinar: "Legal and Risk Issues 2.0 for Real Estate Appraisers Stemming from the COVID-19 Crisis." Scheduled for April 10, 2020 at 9:30 a.m. Pacific. For those who cannot watch live, a video recording and the presentation materials will be made available here shortly after the webinar.
In this second Valuation Legal webinar for appraisers relating to COVID-19, I will be joined by attorney Claudia Gaglione of Gaglione, Dolan & Kaplan LLP. She is the national claims counsel for the appraiser professional liability insurance program managed by LIA Administrators & Insurance Services. We have worked together on appraiser liability matters for over 15 years, and she is my co-author of Risk Management for Real Estate Appraisers and Appraisal Firms (Appraisal Institute 2019).
We will cover:
An overview of the primary legal and risk issues for real estate appraisers in relation to the COVID-19 crisis and anticipated economic fallout.
Responsible suggestions for appraisers on reducing their risk going forward based on the lessons we learned from claims against appraisers after the 2007-09 financial crisis.
Examples of suggested language to include in appraisal reports.
Insurance concerns.
Our discussion will relate equally to commercial and residential appraisal work.
Registration is free and only requires your name and email. Following registration, you will also receive future email announcements from Valuation Legal – Christensen Law Firm about offerings such as this webinar. You can unsubscribe at any time.

LIA Administrators & Insurance Services is the sponsor of this educational event. LIA is the Appraisal Institute's endorsed provider of professional liability insurance for appraisers.
Thank you, Peter Christensen