Last month, I wrote that Impac/Savant/First Mutual/Llano looked like they were starting to have problems with the attorneys representing them in their mass litigation against appraisers.  New signs of such division are appearing. Some of the attorneys and law firms filing the cases seem to have been led into taking the cases based on erroneous assumptions or assurances that they would be "easy" collection-type matters. Attorneys have alluded to: (1) being unable to get needed documents or information from their client (Savant, First Mutual or Llano), (2) their client being difficult to communicate with, (3) their client failing to pay for court costs, and (4) even being threatened by their client. All are signs that the big plan to sue hundreds or thousands of appraisers over Impac's loans is unraveling.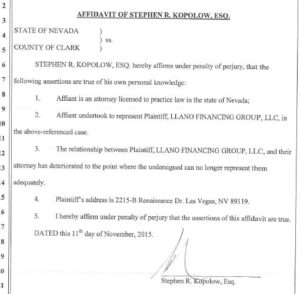 The attorney who has filed most of Llano Financing's lawsuits in Nevada — he's filed at least 30 — has now filed motions in those cases seeking to withdraw from representing Llano. The sole, somewhat vague reason he has cited for this dramatic move is that "the relationship between plaintiff, Llano Financing Group, LLC, and their attorney has deteriorated to the point where the undersigned can no longer represent them adequately." This move will likely cause turmoil in Llano's Nevada cases — indeed, some of the cases that Llano's attorney is seeking to withdraw from have hearings set on pending motions to dismiss in the very near future.
Also, now that several cases have been dismissed against Llano in Florida and Nevada based on very clear grounds, defense counsel for appraisers are feeling justified to demand immediate dismissal of pending cases with the same obvious flaws — and, in some cases, threatening to seek sanctions against Llano and its attorneys if the cases are not dismissed.