Impac Funding's so-called subservicer Llano Financing Group lost another case in Florida on November 6, 2015. This most recent loss came in Santa Rosa County, FL.  The losing attorney and law firm for Llano were Eric Krebs and McCalla Raymer LLC.  Mr. Krebs and his firm have filed dozens of Impac-related cases across the state.  This is the second loss for Impac/Llano with that firm in the last two weeks.

In this case, the state court judge granted the appraiser's motion to dismiss the complaint with prejudice based on language in the appraiser's report specifying that the appraisal was only for use by the client named in the report.  Although the court's basis for dismissing Llano's complaint was language limiting use of the appraisal, the appraiser's legal counsel called Llano's underlying negligence claim against the appraiser "specious" in the successful motion to dismiss: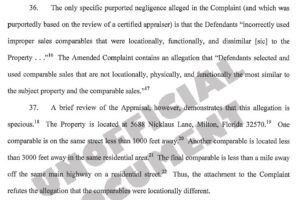 Despite beginning to lose cases across the country as motions to dismiss are heard, Impac/Llano continue to recruit new lawyers to file new cases.  As more cases are dismissed, however, appraisers and legal counsel are beginning to evaluate the pursuit of sanctions or malicious prosecution claims against Llano.
At this point, Llano has filed more than 300 cases in relation to Impac's loans, and I know of no case in which Llano has successfully recovered any monetary amount from any appraiser.