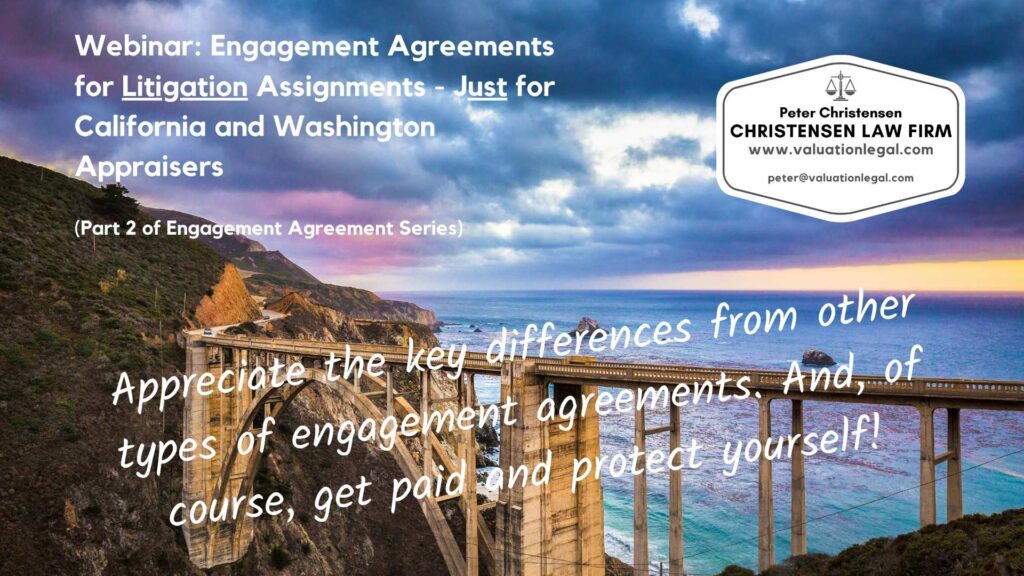 Postponed, new date will be rescheduled when COVID-19 matters settle down.
Another free webinar for California and Washington appraisers is coming from the Christensen Law Firm. This one is "Engagement Agreements for Litigation Assignments, Just for California and Washington Appraisers." It's part 2 of my series on creating great engagement agreements. Participants will receive access to sample engagement agreements I've created specifically for California and Washington appraisers.
In this webinar, I'll:
Discuss an example agreement for litigation work as a consulting or testifying expert appraiser.
Explain some of the relevant discovery law and mechanics behind litigation work as an appraiser in relation to items for the engagement agreement.
Discuss important payment considerations for expert work.
Tell you the #1 way I've seen expert witnesses actually be sued for their work as an expert.
Registration is free and only requires your name and email. We will also have another drawing at the end – the winner will receive a free copy of my book Risk Management for Real Estate Appraisers and Appraisal Firms. You must be a California or Washington licensed real estate appraiser to win.
The webinar will last approximately 45 minutes.
If you are a California or Washington appraiser, please be sure to check out my online class "Appraiser Liability 101" – it's a 4-hour online CE seminar for appraisers approved for credit in CA and WA (and OR too).
If you are licensed in a different state, Appraiser Liability 101 is offered by Appraiser eLearning in a rapidly growing number of other states.
Thank you, Peter Christensen