Federal and California Laws and Regulations – with Real World Relevance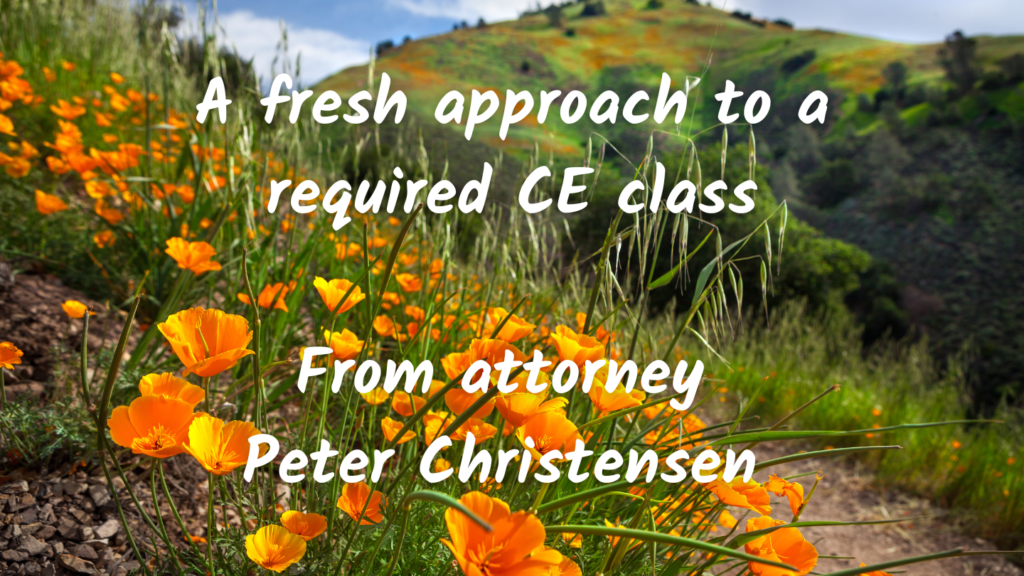 Fulfills BREA's requirement regarding Federal and California laws and regulations.
4 CE Hours
BREA Approval No. 2310722003
Live Virtual CE Class on Zoom
Price: $80
---
Zoom Class Dates
May 19, 2023, 10:00 am to 2:00 pm Pacific
Taught by Peter Christensen – a California lawyer whose legal work is focused on valuation services, this course takes a fresh approach to BREA's required course on federal and California laws and regulations. It offers real world situations and examples to illustrate the laws covered in the course – by, for example, discussing emails offered as evidence in a real case to show alleged violations of appraiser independence requirements. This course also covers important laws relevant to appraising that are missed in other courses – such as the Gramm Leach Bliley Act, RESPA prohibitions relating to appraisal fees, and fair housing laws, including California's newly enacted appraisal protections.
The course answers real world legal questions for appraisers, such as:
What are the laws and regulations I really need to know?
Should I give a "privacy notice" under the Gramm Leach Bliley Act to clients or borrowers?
Is there a "statute of limitations" for complaints to BREA?
Is it o.k. to give a $100 gift card to a chief appraiser for sending me appraisal assignments?
Where can I find good engagement letter samples – and what does California's appraiser law and BREA say about them?
What does an actual BREA "demand letter" look like?
If I agree to settle a BREA citation will that be published on BREA's website?
The class will be presented in Zoom. You must have working audio and a camera – please do not use a phone for the class. You'll also need to verify your identity before beginning the class.
Course Details and Policies
Federal and California Laws and Regulations – with Real World Relevance
4 California CE Hours (Approved in California only)
BREA Course Approval No. 2310722003
Course Provider: Valuation Education LLC
Course Fee $80
The course provider is Valuation Education LLC (operated by Peter Christensen). The contact information for Valuation Education LLC is 805-696-2600 or [email protected]
The instructor for the class is Peter Christensen, Christensen Law.
The class will be presented live in a Zoom meeting.
All students must participate by having working video and audio on a computer (this is a requirement for virtual CE presentations).

Watching on a phone is not sufficient

.
As required by BREA, there will be a 20-question open-book exam that must be passed to receive credit.
After you purchase the class, I will email you about how to log into Zoom for the class.
Plan on joining a class 15 minutes before the actual teaching start time to ensure that you can login to the Zoom meeting.
Refund policy: If you need to cancel before the class begins or run into a technical issue, I'll refund your money – no problem.
Thank you, Peter Christensen