Elimination of Bias and Developing Cultural Competency – with Real World Relevance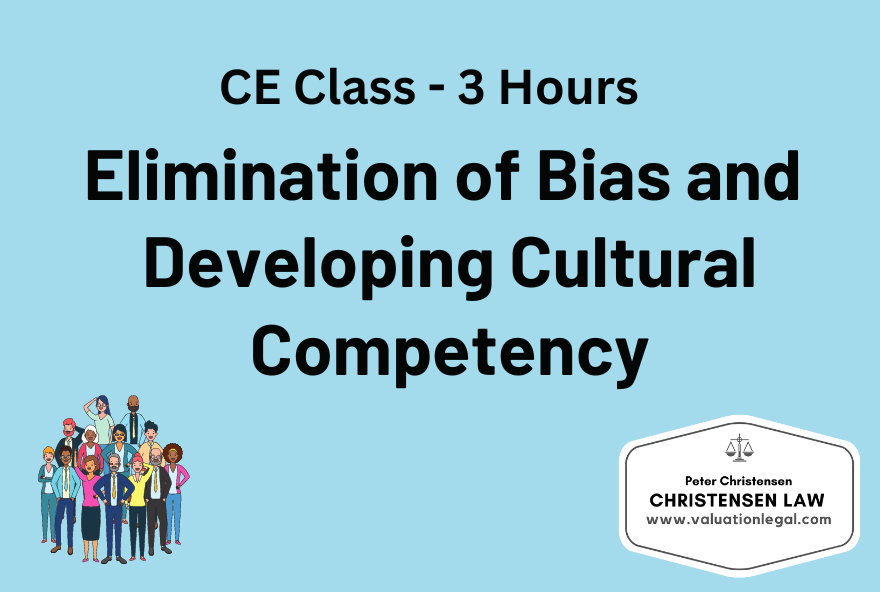 Fulfills BREA's new appraiser CE requirement for elimination of bias and cultural competency.
3 CE Hours
BREA Approval No. 2310722004
Live Virtual CE Class on Zoom
Price: $70
---
Zoom Class Dates
Next class date coming soon

All California appraisers will need to take this class before they renew their licenses, but there is no reason to delay! The topics are important and timely – and also interesting. You will get up-to-date information from attorney Peter Christensen about what is happening in the courts and in administrative bodies relating to alleged discrimination in appraising from an attorney who is presently handling cases and investigations. You'll learn key ways to work on eliminating bias and reduce your legal risk. You'll also learn why "cultural competency" knowledge and skills are truly important for appraisers – you'll see how a lack of cultural competency has led appraisers into legal quagmires.
The class will be presented in Zoom. You must have working audio and a camera – please do not use a phone for the class. You'll also need to verify your identity before beginning the class.
Course Details and Policies
Elimination of Bias and Developing Cultural Competency – with Real World Relevance
3 California CE Hours (Approved in California only)
BREA Course Approval No. 2310722004
Fulfills BREA requirement for 2 hours of Elimination of Bias and 1 hour of Cultural Competency
Course Provider: Valuation Education LLC
Course Fee $70
The course provider is Valuation Education LLC (operated by Peter Christensen). The contact information for Valuation Education LLC is 805-696-2600 or [email protected].
The instructor for the class is Peter Christensen, Christensen Law.
The class will be presented live in a Zoom meeting.
All students must participate by having working video and audio on a computer (this is a requirement for virtual CE presentations). Watching on a phone is not sufficient.
There is no exam for this class.
After you purchase the class, I will email you about how to log into Zoom for the class.
Plan on joining a class 15 minutes before the actual teaching start time to ensure that you can login to the Zoom meeting.
Refund policy: If you need to cancel before the class begins or run into a technical issue, I'll refund your money – no problem.
Thank you, Peter Christensen