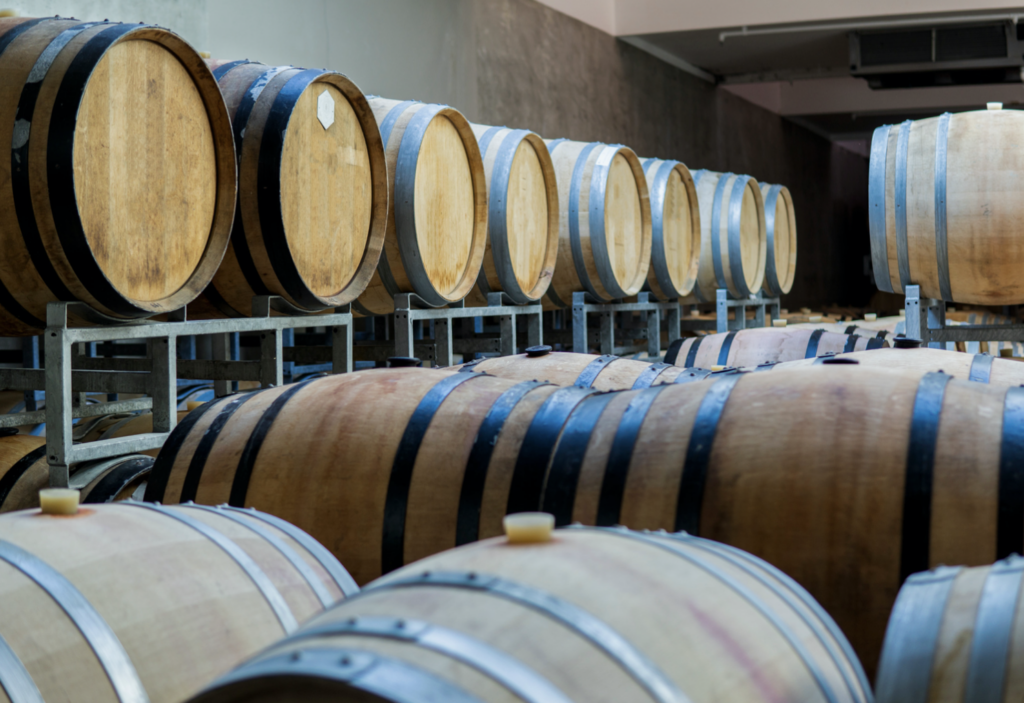 It's not only real estate appraisals and business valuations that lead to lawsuits alleging professional negligence and violations of practice standards. Personal property appraisers receive their fair share of claims too – often with interesting stories. In this new case, ACF FinCo I LP, which describes itself as an asset-based lender, has filed a lawsuit against an appraisal firm for alleged professional negligence in connection with the firm's appraisals of approximately 500,000 gallons of wine. ACF FinCo filed its complaint (link to PDF) against Great American Group Advisory & Valuation Services, LLC ("Great American") in Los Angeles Superior Court on September 30, 2020. The lender alleges that it extended a credit line secured by the wine to Terravant Wine Company LLC ("Terravant") (now known as Summerland Wine Brands), a producer of private label wines in Santa Barbara County, based on Great American's appraisals and that it suffered a $6.8 million loss upon disposing of the loan after Terravant's default. 
The appraisal firm Great American is a subsidiary of B. Riley Financial, a publicly traded company. In its corporate filings, B. Riley describes Great American as "a leading provider of appraisal and valuation services for asset based lenders, private equity firms and corporate clients."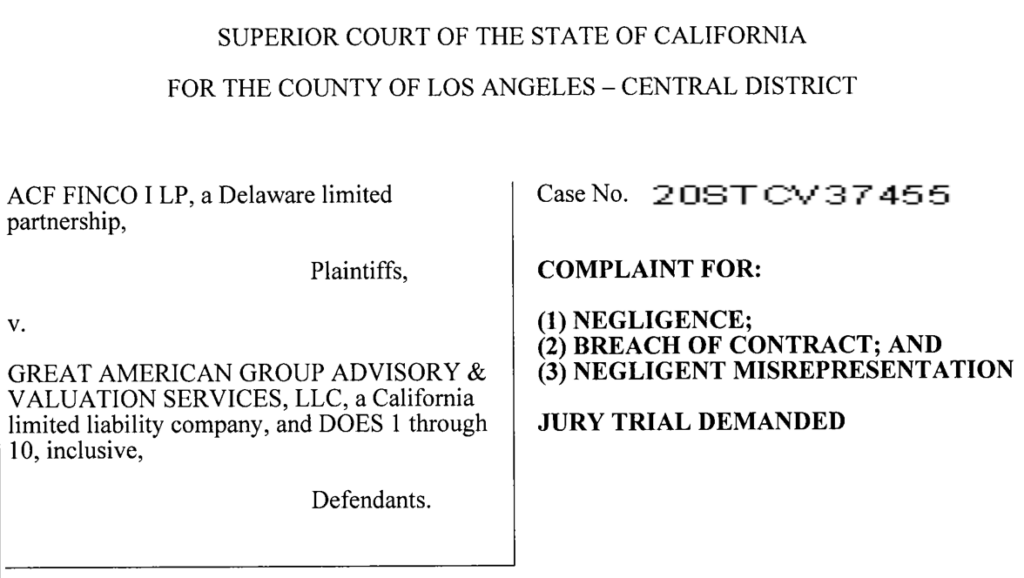 According to the complaint, the first appraisal at issue was provided by Great American in 2016. Though personal property appraisers are not licensed in California (or in other states) and, unlike real estate appraisers, are not as a profession held by law or regulation to any specific appraisal standards, Great American allegedly stressed that its appraisal work would be performed under the Uniform Standards of Professional Appraisal Practice (USPAP). The plaintiff lender makes this point in its complaint to bolster a contention that it was Great American who made key valuation practice determinations and assumptions. One of those key determinations, as alleged by ACF FinCo, was whether the wine should be valued in its actual bulk storage state or based on a hypothetical conversion from bulk storage to bottled wine in cases. The appraisal firm allegedly decided it should be valued under the "conversion scenario." Accordingly, the 2016 appraisal allegedly opined that Terravant's 507,681 gallons of wine could be converted into case goods within a one-month period and sold over a six-month period for a total value of $17.3 million.
ACF FinCo alleges that in reliance on that appraisal, it approved a line of credit up to $15 million — with the inventory-backed portion of that loan being limited to $10 million. The firm provided a second appraisal in 2017, which reported a slightly increased value of $18 million and again calculated the value based on an assumption that the wine could be readily converted into cased bottles.
In 2018, when Terravant was struggling with its loan obligation, ACF FinCo received a third appraisal. It alleges that Great American's 2018 appraisal told a very different narrative:
While the 2018 Appraisal included a conversion-based liquidation valuation, Great American materially changed its assumption that 100% of the bulk wine would be converted to case goods, and opined that such conversion would be limited to only 30% of bulk wine. This change resulted in a dramatically lower value because the bulk wine was expected to sell at much lower prices that the bottled wine. Accordingly, the NOLV [Net Orderly Liquidation Value] based on the 30% conversion rate was less than $7.7 million … nearly 60% lower than Great American's conversion-based NOLV of over $18 million in the 2017 Appraisal …
The lender also states that for the first time, Great American's appraisal report now included disclaimer language noting that "Any deterioration in open sales orders, gross margin, level of supply, and mix of bulk wine could negatively impact recovery values and may render conversion unfeasible."
With the loan in default and finding itself greatly under-secured, the lender says it was forced to mitigate its prospective loan loss by disposing of the loan on unfavorable terms. While the lender's story in the complaint is murky about what actually transpired with the loan, at the end of the day, ACF FinCo claims it lost "more than $6.8 million on its loan to Terravant as a result of Great American's negligence."
This will be an interesting case to watch. There will be a statute of limitations issue regarding the negligence claim that will surely be raised by defendant Great American because the statute of limitations period is two years in California with a "discovery rule." Perhaps they are unaware that the limitations period is two years, because ACF FinCo's attorneys highlight the potential statute of limitation issue in the complaint by alleging:
Plaintiff was unaware that defendants had negligently performed the 2016 and 2017 Appraisals until, at the earliest, the end of May 2018, when defendants issued the 2018 Appraisal and Plaintiff discovered that the security for its loan to Terravant was worth far less than Plaintiff had believed. Plaintiff could not reasonably have discovered the true value of the inventory at an earlier time because it had no reason to believe that the 2016 and 2017 Appraisals were in any respect inaccurate.
While the substance of the appraisals will certainly be an issue if the case goes forward, I also suspect that whether Great American utilized strong, protective engagement agreement terms will be a key factor to any potential for an early dismissal of the case. Appraisers can read more about the statute of limitations and "discovery rule" applicable to their professional services here and consider sample engagement agreement terms (mainly for real estate assignments) here – both are resources on www.valuationlegal.com.
Appraisals of personal property certainly do present liability risk, especially when prepared for asset-based lenders. Indeed, in a separate Los Angeles Superior Court case filed in 2018, the same firm is being sued for alleged professional negligence by an asset-based lender (Siena Lending Group LLC) in connection with an inventory appraisal for a loan that later went into default.